The best sports tank tops for women 2023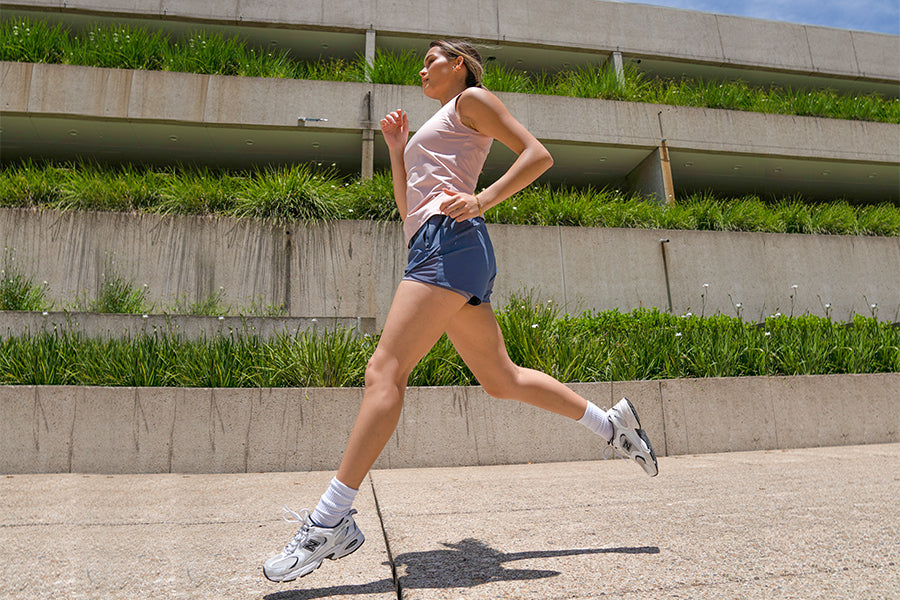 As the temperature gradually rises, there's no better time to invest in a stylish new sports tank. For anyone who loves to work out and stay active, sports tank top is an essential item to have. It is practical, comfortable, and fashionable, making it an ideal choice for any kind of exercise. In this blog post, We will discuss why sports tank top is a great choice for all kinds of workouts, how to choose and Introducing our latest sports tank tops.
Why do women like to wear sports tank tops when working out?
 Firstly, tank tops allow the skin to breathe, which is especially important when exercising. This helps to keep the body cooler and allows sweat to evaporate more quickly, which helps to prevent overheating.
 Secondly, tank tops can also help women to check their form during their workouts. With a tank top on, it is easier to see whether the arms and shoulders are aligned properly and whether the back is straight when doing certain exercises. This helps to ensure that the exercises are done correctly and effectively, reducing the risk of injury.
 Finally, wearing tank tops during a workout can help to extend the length of the workout. With unrestricted movement, the body is able to work out for longer periods of time without feeling too uncomfortable. Without the restriction of a long-sleeved shirt, the body can move more freely and work out for longer periods of time.
 For these reasons, many women choose to wear tank tops while they are working out. Not only do they allow the skin to breathe, they also help to ensure proper form and can help to extend the length of the workout. Tank tops are comfortable and allow for unrestricted movement, making them the preferred choice for many women working out.
How to choose a sports tank?
 When shopping for workout tank tops, it's important to look for fabrics that are breathable and wick moisture away from the body.
 For shorter runs, up to 1km, a pure cotton fabric may suffice, but for anything longer, it's best to choose a synthetic fabric blend. Two of the best fabrics for this purpose are polyester and spandex blended with nylon.
 Polyester/Spandex/nylon blends are soft, breathable, and very durable. They also have a high degree of elasticity, meaning they won't stretch out of shape after repeated wear and washing.
 Our Sports tank tops for Athletic and Everyday Wear
We are proud to introduce our newest selection of sportswear for all your active needs. Our latest three tanks – Belleza Quick-dry Sports Tank,  Belleza Ribbed Tank, and Freeday Cotton Tank. Whether you're hitting the gym, running, doing yoga, or lounging at home, we believe these tanks are the perfect choice for any activity. Let's take a closer look at each one.
Introducing our newest Belleza Quick-dry Sports Tank. This sports bra is designed to keep you cool and feeling confident during your workouts. It is made with a quick-drying, cooling fabric with some breathable holes in the back that ensures you stay cool during a workout. Plus, the racerback design keeps it snugly in place while you train, run, or work out.
Here comes out our best-seller: The Belleza Ribbed Tank is another great choice for work out. It is made with our stretchy, beautiful ribbed Agilex fabric and also features a racer-back design which gives you a full range of motion. It looks great both in the gym and at home and is perfect for medium-impact activities.
 Finally, the Freeday Cotton Tank is the perfect choice for yoga, pilates, and other low-impact activities, or you can just wear it as a daily outfit. It is made from a soft breathable fabric and features a slim fit, hip-length design. Plus, its classic racer-back design ensures you look great while you exercise.
 We hope you find the perfect tank for your active lifestyle. All of our tanks are designed to keep you feeling comfortable and looking great no matter what activity you're doing. So, what are you waiting for? Get your hands on a trendy sports tank today.
---