Some tips to choose a sports outfit for female
DO YOU KNOW HOW TO CHOOSE THE RIGHT WORKOUT CLOTHES IN SUCH A HUGE VARIETY, SUCH AS SPORTS BRA, YOGA PANTS, SWEAT PANTS, RUNNING SHOES, WORKOUT SOCKS, OR A CASUAL WEAR INSTEAD?
Whether you are an athletic woman, an excellent sports enthusiast, a casual walker, or just make a fitness routine for maintenance of your body health, suitable athletic wear such as yoga pants, sports bras, sweat shorts, gym clothes, or running shoes fabric tends to offer more comfort in running or workout sessions. 
TIPS TO CHOOSE THE BEST WORKOUT CLOTHES FABRIC.
1. Stretchable. A workout clothing featuring fantastic elastic recovery performs an essential function in doing exercises in that the fabric is allowed to stretch its limit without losing its shape.
2. Abrasion resistance. The workout clothes fabric resistant to tear and abrasions will prevent potential damage from high-intensity exercise in warm weather.
3. Sweat resistance. No negative impact on the sports clothes fabric while doing sweat sports, which takes advantage to aid physical health by cooling your body temperature during an intense workout.
FEATURED POPLIFT WORKOUT WEAR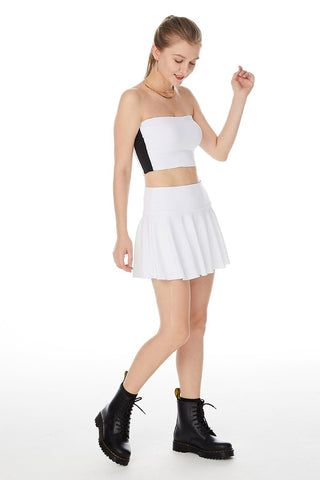 Poplift Elastic Fit Strapless Sports Bra
This woman wearing workout clothes for women is superior in quality and new in design; the strapless sports bra might break the limits of your style. The stretchable, sweat-resistant sports bra made of moisture-wicking fabric offers more comfort, suitable for ranging large to small chested women in yoga class or fitness world.
The stretchy 80-20 Nylon and Elastane fabric of the sports bras deliver comfort and support.
No-strap design of the sports bras can easily be worn under blazers, layered, and more.
 The elastic fit of the sports bra hugs your curves and emphasizes your shape.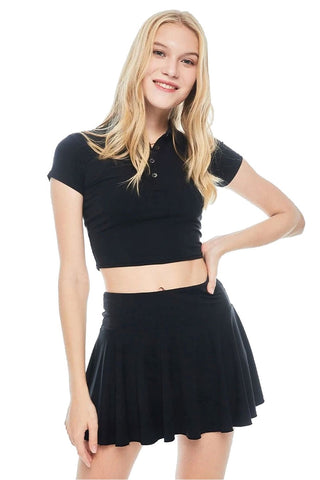 Poplift Crop Hem Polo Shirt
This body-hugging design bares your belly and features four buttons and a preppy collar - modern vibes with a little day-to-night twist. You'll love the ultra-soft, lightweight material every time you slip it on.
Durable 80-20 nylon elastane fabric brings durability to a breathable design.
Crop hem adds a unique take to the classic women's polo.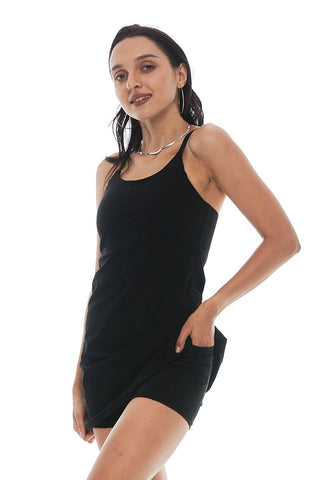 Poplift Spaghetti Strap Tennis Dress
The good quality workout clothes Feature clean lines, slender straps, and a hidden pair of inner shorts with pockets, it has everything you need to stay stylish on the go. You'll love the way this easy tennis dress fits and feels!
Made of an 80-20 Nylon and Elastane blend, this dress moves with you.
Spaghetti-style straps let you elegantly bare your collarbone and shoulders.
CONCLUSION OF WORKOUT CLOTHES
Poplift is made of breathable and stretchy material, for example, a material called spandex is a kind of high-tech polyester and moisture-wicking fabrics in workout clothes will absorb all the sweat and help increase the duration of workout sessions. Likewise, the stretchable material is exceptionally beneficial to start a great athletic performance. Moreover, the women's sportswear fabric could keep warm in cold weather.
---